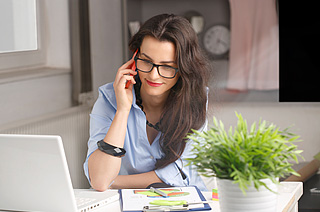 Do you have Work Concerns?
Most people spend a lot of their waking hours at work, thinking about work, or doing work-related tasks.  This might mean working at a company, being a stay-at-home parent, being an entrepreneur, or preparing to enter or re-enter the workforce.
Working not only provides an income, but it can also provide a sense of meaning and accomplishment. If you have work concerns, this can not only impact you while on the job but can impact your overall sense of well-being.
If you would like to gain clarity on any aspect of work or to increase your confidence, competence, or well-being at work, therapy might be for you.
Do you…
Feel overwhelmed trying to balance work and personal responsibilities?
Feel pressured by too many demands and have trouble getting everything done?
Find others expect a lot from you, and you have trouble saying "no"?
Realize that there are important work conversations that you are not having because you don't know how to?
Feel dissatisfied or unhappy with your work but are unsure as to why, or don't know what to do about it?
Find yourself over-reacting at work? Overly sensitive and tearful or defensive?
Wish you could present yourself more confidently or professionally?
Feel lonely, dissatisfied, or overwhelmed as a stay-at-home parent?
 Consulting a professional on work-related matters can help you to:
Gain clarity about what is contributing to your dissatisfaction
Understand your reactions to work-related situations and how to respond more productively; taking charge of the underlying issues and bringing them to resolution
Get a clearer sense of direction on work-life balance, your values, and how to live by these values at home and at work
Gain a better view of what contributes to your work-load and work responsibilities, whether it is sustainable, and how you can approach change if needed
Feel more intentional and satisfied about how to create the work life and relationships you want
Why is a healthy work-life important?
Our work represents a considerable part of our lives.  It is a potential source of personal reward and achievement, meaning, and positive relationships.
When we have unaddressed concerns about work, it can have a significant impact on our energy and emotional health.  It can even start to have negative effects on our home life and personal relationships.
Improving the health of your work life has benefits for you, your colleagues, and often the people you care most about; your family and friends.
Learn about other Specialty Services