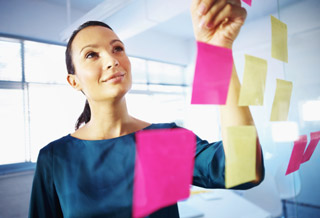 Would you like to improve your time management or organizational skills?
The art of managing time and belongings does not come naturally to everyone. Getting organized and staying organized can be a challenge for many people. Luckily, there are skills you can learn to be more productive.
Do you:
Feel overwhelmed by all the things you need to get done?
Start many tasks, but have trouble finishing them?
Misplace things you need, like your wallet or keys?
Forget to do important things that you promised yourself or others?
Procrastinate on starting assignments for work or school?
Have many to-do lists, but tasks just keep piling up?
Feel stressed because you're always rushing or late for things?
Improving your time management or organizational skills can help you:
Get more accomplished, and on time
Feel better about yourself and your achievements
Meet deadlines at work or school
Follow through on commitments that you've made to yourself or others
Show up for social events on time, and score the best seats at the resto or movies
Enjoy your free time with less guilt ("I should be working now….")
Why getting help is crucial now
Procrastinating on getting help for procrastination, is, well… just too ironic.
Disorganization can have a negative impact on many areas of your life, including your work or school, your finances, and your relationships.  This can lead to missed opportunities, stress, low self-esteem, and strain on your relationships with others.
Keeping on top of things can build self-confidence and help you achieve more. Get help now.  Literally now.  You can do it, we can help.
Learn about other Specialty Services