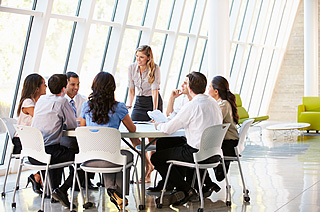 Do you want to strengthen your leadership skills?
Do you wonder if you have what it takes to be a leader?
Is leadership one of your personal or professional aspirations, but you wonder where to start?
Do you feel you could demonstrate stronger professionalism and personal leadership in what you are doing right now?
Are you in a leadership role because of your professional expertise but struggling with the "people side" of your role?
Do you find particular kinds of colleagues or team members hard to manage?
Would you like to work on the "team atmosphere" to create a climate that encourages your team to do their best work?
Enhancing your leadership skills can help you to:
Clarify whether you want to pursue a leadership role
Identify a path of progression towards the leadership role you aspire to
Understand your leadership style along with potential strengths and weaknesses
Develop strategies to manage different kinds of employees, helping them and you to flourish in the process
Create a team atmosphere that is healthy for you and your team, improving well-being and productivity
Develop a more effective 

leadership

 style
Improve interpersonal or communication skills
Find work/life balance
Expedite priority setting and time management
Enhance presentation and networking skills
Deal with conflict and learn conflict-management skills
Strengthen self-confidence, assertiveness, and well-being
Why are leadership skills important?
Being in a leadership role comes with responsibility.  When we feel pushed into a leadership role without the skills and support required, it can erode our existing skill-set and our confidence as a leader.  By developing personal insights and strategies for effective leadership, we can learn to feel more competent and at ease in the leadership position, helping ourselves and colleagues to thrive.
Learn about other Specialty Services