My passion is to help people overcome health problems, with a specialized focus on human sexuality. I also provide psychotherapy for a variety of concerns such as anxiety, depression, and interpersonal relationships.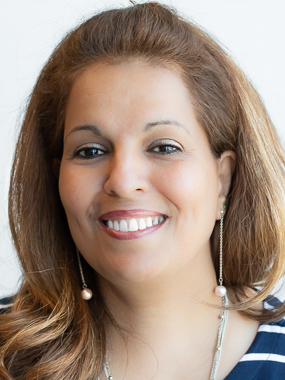 Psychotherapist qualified to Practice Psychotherapy, OPQ# 61786-17
Hello, my name is Saliha Ait Hassen, I am a licensed sexologist and a licensed psychotherapist. I also hold a degree in gynecology and obstetrics and a degree in general medicine, from the Medical University of Algiers in Algeria. After moving to Canada, I completed a Master's degree in sexology at the University of Quebec in Montreal. My medical background helps me to understand and treat sexual issues from both a medical and psychological perspective, which my clients truly appreciate. I also have experience training senior technicians, nurses, and midwives in the public healthcare sector, and have given public lectures to share my knowledge.
My passion is to help women and men overcome health problems, with a specialized focus on human sexuality. I have extensive experience in the evaluation and treatment of sexual health difficulties, and profound knowledge of both obstetrics-gynecology and psychotherapy. I've successfully helped clients overcome issues like painful intercourse or orgasm, vaginismus, prevention of gynecological illnesses (cervical cancer, breast cancer), gynecological and urological cancers – including their repercussions on sexuality, pregnancy and infertility, abortions and their aftermaths, sexually transmitted infections, menopause, andropause, and physical impairments and their repercussions on sexuality.
In terms of mental health, I commonly work with clients who are struggling with personality disorders, anxiety disorders, post-traumatic stress disorder, depression, and sexual concerns such as erectile dysfunction, problems related to ejaculation, arousal, or orgasm, low sexual desire, sexual compulsions or addictions, sexual and conjugal violence, concerns about gender identity, sexual orientation, and fantasies, body image concerns, low self-esteem, exhibitionism, voyeurism, fetishes, sexual or romantic relationship concerns. I also provide counselling for stress, marginalization, suicidality, and conflict resolution.
The profession of the sexologist, according to the Order of Professional Sexologists of Quebec, 2017
The sexologist intervenes to improve, maintain, and restore the sexual health of individuals. The interventions of the sexologist include the evaluation of the sexual behaviour and sexual development, the elaboration of a treatment plan, and the implementation and follow-up of the plan, either by the sexologist him/herself or along with peers and/or multidisciplinary team including external resources, in order for the client to reach a better sexual balance with their environment.  The sexologist intervenes to improve, maintain or re-establish sexual health.  When sexual health is impaired, balance need to be found again and the sexologist can recommend and apply tools and treatments.
Trained in Scientifically-Based Treatment Approaches
13 years of experience in medicine, gynecology and obstetrics
4+ years of professional experience in psychotherapy
University-Level Training in Psychology
MA in sexology
University of Québec à Montreal
Specialist degree in gynecology and obstetrics and a degree in general medicine
University of Algiers, Algeria